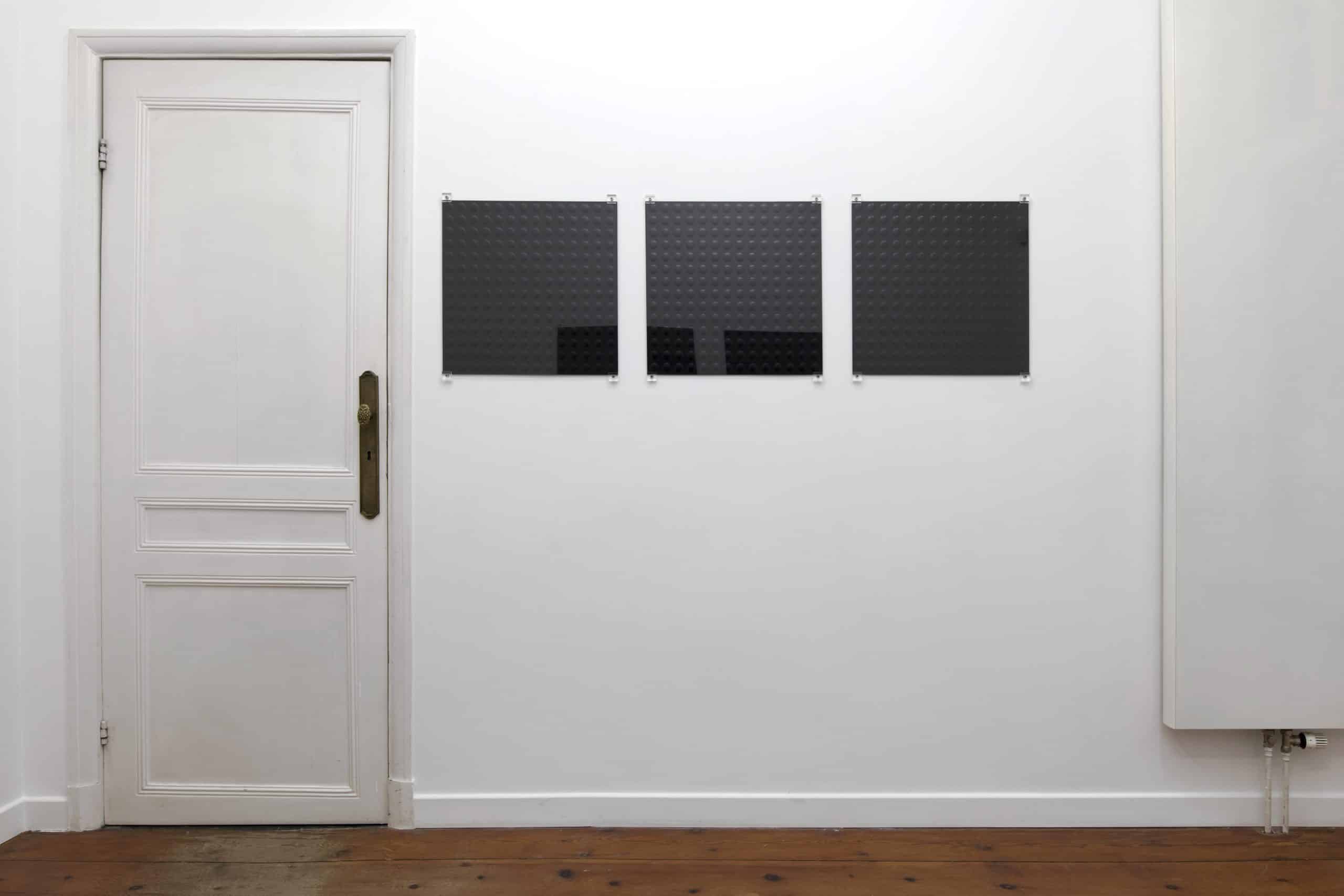 Beige is pleased to announce the new exhibition 1, 2, 3 Pirelli by Willem Oorebeek. The exhibition gathers for the first time all the works of the celebrated Pirelli series, started in the mid-nineties.
The work of Willem Oorebeek (b. 1953, Pernis NL; lives and works in Brussels) focusses on the perception of the image and the message as seen through graphic technical processes. He often appropriates printed matter found in public space, like advertising, magazine covers, electoral campaign posters and reworks them. Either through the use of the 'black-out', a layer of black ink that covers and obscures the image, or by applying a halftone grid. Both methods sharpen our awareness of our perception of the image.
The show at Beige gathers for the first time all the works of the Pirelli series. The series is a formal exercise that explores the schematic representation of the self through the techniques of the printing process. The dots in the Pirelli rubber point to the dots of the printing process. These black studded rubber flooring tiles are positioned behind a reflective glass plate. At once the viewer's image is reflected in the glass that is framing the work, thus creating a temporary merging of the original image and the viewer. The works function as 'a tool for seeing', images, space, the self.
The different formats that consist the series make us conscious of the variety of different standardised forms: the portal, the landscape and the portrait. The Pirelli Portal has the size of a standard door and therefore it also relates perfectly to the human body. The formats like portrait and landscape are interchangeable. They relate to each other, to the printing process and to art historical formats. The work Without Title follows the same procedure as the Pirelli series. Here the person is already portrayed and is pushed back in the grid through the added rubber dots. Playing with the perception and perspectives the artist sets a frame that make the viewer more aware of all the frames he is already surrounded with in everyday life.
From 1970 until 1975 Willem Oorebeek studied graphic art, painting and drawing in Rotterdam. He would go on to become intensively involved – as a teacher, advisor and mentor in the Netherlands, Belgium and Austria – in knowledge transfer, the debate on art and art education and the reception of art. First at the Jan van Eyck Academy in Maastricht and later in Amsterdam, Hamburg and Vienna. In 1997, together with Aernout Mik, he represented the Netherlands at the Venice Biennale. In 2008 he set up the artist-in-residence-program at WIELS where he was one of the artistic mentors. He was influential to numerous generations of artists. Recently he stopped teaching and is now fully committed to his own artistic practice in his Schaerbeek studio.
His work is held in the collection of Kanal, Brussels; S.M.A.K., Ghent; Generali Foundation, Vienna; Boijmans van Beuningen Museum, Rotterdam; MHKA, Antwerp.