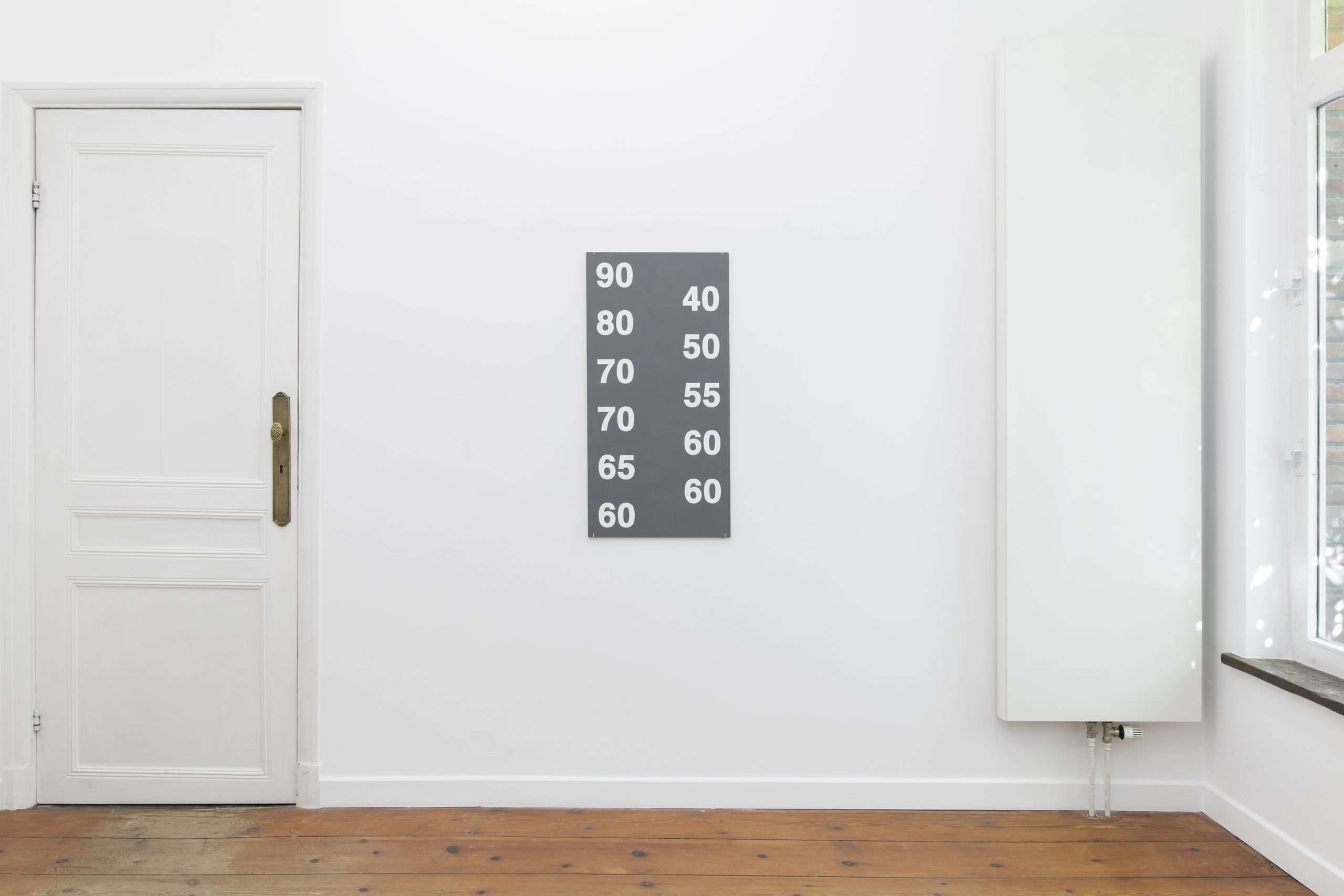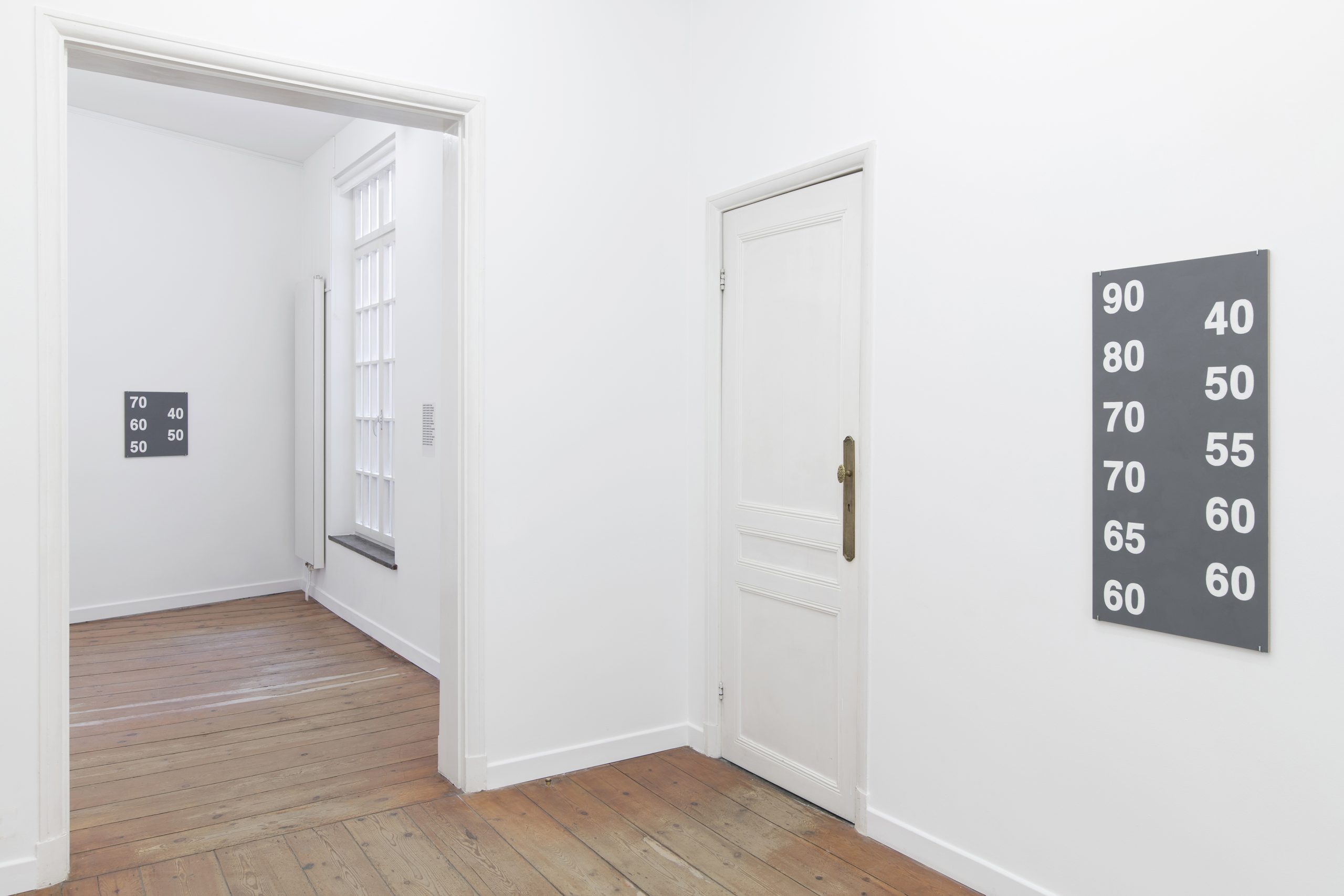 Oriol Vilanova (°1980, Manresa, Spain) lives and works in Brussels. His artistic practice is developed through the context of the (flea) market, which he visits ritually while building a collection of postcards. This process functions as a 'thinking machine' for his fundamental questioning of political, cultural and economic mechanisms inherent to the construction of a collection. His witty conceptual play results in installations, performances and theatre-performances, but equally in artist's books and printed matter. 
For his show at BEIGE, Vilanova reconstructed the bargaining act at the flea market. The exhibition's title 'the end of the ancient world' touches on themes such as the economic recession, and the dominance of numbers in our daily lives. In a typical deadpan manner, the artist recalls the price negotiation between the seller and the buyer in two communicating columns with numbers. It visualizes the dynamics of the process and the performative act of the transaction. 
"Economical Poems are the memory of a conversation, sometimes heard, sometimes experienced. Moments of bargaining. Price and value. Empathy and sharing. In an oral language, immaterial as the economy. Economical Poems reproduce the process of bargaining between the seller and the buyer. The market as a poetic experience." – Oriol Vilanova
The work of the artist resonates strongly with the work of other conceptual artists. The minimal paintings are hand painted on wood referring to the wooden signs used on the market. Yet when one looks closely at the painting, one discovers the painterly quality to the surface. 
His work was recently presented in solo exhibitions in: NMNM, Monaco (France); Albright Knox Art Gallery, Buffalo (USA); Fundació Antoni Tàpies, Barcelona (Spain); CA2M, Madrid (Spain); Fundació Joan Miró, Barcelona (Spain); M Museum, Leuven (Belgium); Centre d'Edition Contemporaine Genève (Switzerland); L'Appartment 22, Rabat (Morocco).
He was part of the following group exhibitions: Palais de Tokyo, Paris (France); Les Abattoirs, Toulouse (France); Les Rencontres de la Photographie, Arles (France); Kunsthal Extra-City, Antwerp (Belgium); LLS Paleis, Antwerp (Belgium); Triennial APAP6 Anyang, Seoul (South-Korea); PetahTikva Museum of Art, Tel Aviv (Israel); Kunstverein Langenhagen, Langenhagen (Germany); Centro Botín, Santander (Spain); CAAC, Sevilla, MACBA, Barcelona (Spain); FUTURA Center for Contemporary Art, Prague (Czech Republic).
He published artist books with: JAP, Brussels; Christophe Daviet-Thery, Paris; JRP Ringier, Zurich; FRAC Champagne-Ardenne, Reims; Cru, Figueres. 
His work is part of the following public collections: MAC'S Musée des Arts Contemporains Grand-Hornu (Belgium); M Museum & Cera Collection, Leuven (Belgium); MACBA, Museu d'Art Contemporani de Barcelona (Spain); Centre d'Art La Panera de Lleida (Spain); Fundación Montemadrid (Spain); Fundación Botín, Santander (Spain); Ministerio de Asuntos Exteriores, Madrid (Spain); Albright-Knox Art Gallery, New York (USA), NMNM, Nouveau Musée National de Monaco (France); Mathaf: Arab Museum of Art (Qatar); FRAC Grand-Large – Hauts-de-France, Calais (France); DZ Bank Kunstsammlung, Frankfurt (Germany).